Oklahoma softball: Sooners mow down Iowa State to go 9-0 in Big 12
Oklahoma softball is like a runaway freight train right now, demolishing anything and any team that gets in its way.
The Sooners erupted right out of the gate on Monday, putting up a seven spot in the first inning to virtually put the game on ice and register a series sweep over Big 12 opponent Iowa State. OU completed the three-game, Sunday/Monday series with a 9-1 win on Monday behind senior pitching ace Paige Parker, who rang up her 19th win of the season with just one loss.
Parker pitched the first three innings, allowing one run on two hits, and Paige Lowary finished up the five-inning, run-rule victory, which extended the OU consecutive-game win streak to 25. Ranked No. 2 in the nation, the Sooners improved to 34-2 on the season and remain perfect, at 9-0, in the Big 12.
The Sooners, ranked No. 2 in the country/ have won 14 games this season by the run rule and five against Big 12 opponents.
Parker also got the win in the first game of the doubleheader on Sunday, pitching a complete game and allowing one run on four hits while striking out 11 Iowa State hitters. Mariah Lopez won her 10th game of the season in the nightcap on Sunday, giving up just two hits and one run in a 9-5 Oklahoma victory.
The three-game sweep of the Lady Cyclones gives OU 33 consecutive wins over Iowa State in softball.
Oklahoma pitching has been outstanding this season. Parker leads the Sooner staff with a nation-best 0.30 ERA. Her 19 wins are tied for fourth nationally, according to current NCAA Division I softball stats. Oklahoma's staff ERA (0.90) is No. 2 in the nation. In 36 games this season, Sooner pitchers have yielded just 35 runs (30 of them earned). That is the fewest runs given up in the country.
What makes the Sooners so lethal this season isn't confined only to pitching excellence, however. The OU bats have been on fire, as well. Oklahoma ranks fourth in the nation in batting average (.335), and No. 3 in both on-base percentage (.437) and slugging percentage (.551).
OU is led offensively by freshman designated player Jocelyn Alo and junior third baseman Sydney Romero. Alo's batting average is a team-high .460, 10th best in the country, and she leads the Big 12 in both home runs (17) and runs batted in (45). Romero is hitting .456, with nine home runs and 43 RBI.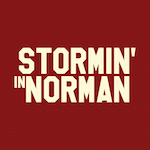 Want your voice heard? Join the Stormin In Norman team!
Write for us!
The Sooners are next in action on Wednesday, when they will host Wichita State at Marita Hynes Field, and they remain home this weekend, playing host to Kansas (25-15, 0-6), currently winless in conference play and at the bottom of the league standings.